This is a guest post by David Kay of Sero Consulting who describes some of the project's work to develop user stories and enable a better understanding of the kinds of functionality any shared analytics service would need to have
Analytics has become quite a buzzword over the past couple of years. Awareness has been promoted by general talk of 'big data' as well as by increasing emphasis in the sector on the student experience and success factors (linked to 'Learning Analytics') and on resource optimisation driven by economic constraints.
Furthermore EDUCAUSE and the Gates Foundation in the US and Jisc in the UK have enabled notable exploratory work.
And now every new generation library systems offering needs the 'Analytics' badge.
But what does analytics mean to library professionals UK Higher Education? Is analytics 'all things to all men' or simply 'the emperor's new clothes' (formerly known as management reporting or the director's dashboard)?
So in Autumn 2013 the LAMP project set out to discover what library teams really have on their minds. Whilst LAMP is specifically focussed on the opportunities for shared services around library analytics, we stepped back to the underlying question of 'What do libraries want to achieve with analytics?' regardless of whether a shared service can help (our second order question as a project being to identify the cases where LAMP might help).
A total of eleven libraries working with the LAMP project agreed to develop a set of User Stories describing what they would like to achieve with analytics. We agreed to a two-step process whereby seven libraries were interviewed to source a set of stories and then the wider group (the original seven and four more) voted on the relevance of the stories (around 90) from their local perspective.
Thanks go to the library teams at the universities of Birmingham, De Montfort, Exeter, Huddersfield, Hull, Manchester, Warwick, Wolverhampton, York, the London Business School and the Open University.
About User Stories
User Stories are recognised as a valuable tool for capturing clearly focused requirements to inform software development. For the purpose of this investigation, a user story was taken to be a statement in the form of:
As a (role),
I want (a thing)
in order to (achieve an outcome)
For example
As a (late riser),
I want (to get my breakfast quickly)
in order (to catch the train)
We'd consider that to be an 'epic' story, from which a number of more detailed stories about real requirements might be teased out; for example
As a (late riser),
I want (a four-slice toaster)
in order (to make breakfast quicker)
and
I want (a folding bike)
in order (to get to the station quicker)
The stories we collected from library teams fell in to both these categories – epic stories that described the mission to which analytics might contribute and lower level descriptions of how particular analytic activities might deliver or contribute to key outcomes; for example, the mission might be
As a (library manager)
I want (more comprehensive activity data)
in order (to improve student satisfaction)
That mission might be unpacked in to
I want (front desk enquiry analysis)
in order (to improve first level resolution)
and
I want (short loan turn away data)
in order (to expand the collection to meet demand)
What's analytics about? Our Library Stories
So what did our 11 libraries consider the most important contributions to be made by analytics?
As described above, we collected around 90 stories and then put them to the vote! Our voting system allowed a library to allocate 2 points for any story they regarded as 'important' and 1 point for a 'useful' story. Therefore a story regarded as 'important' by everyone could gain 22 points (11 libraries x 2 points). The 49 stories that gained over one third of the maximum points (i.e. 8/22) are listed here.
We classified 19 stories of those 49 as 'epic' or 'mission' stories – very interesting because they indicate the management and strategic purposes that library analytics need to serve. They are as follows: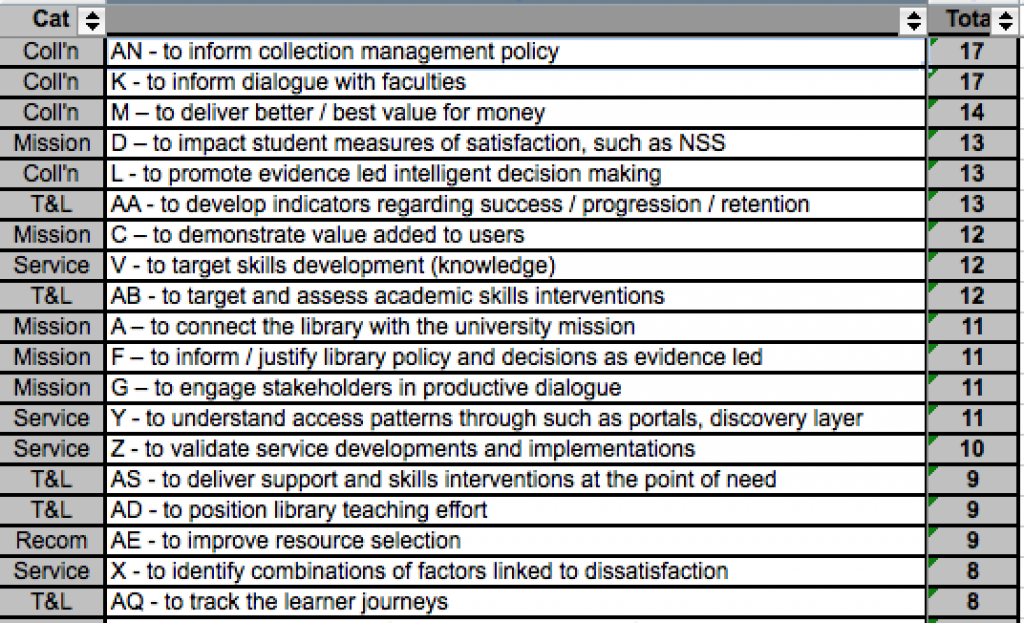 We classified 30 of the 49 as 'activity' stories – more detailed things that librarians want to do with analytics. They are as follows: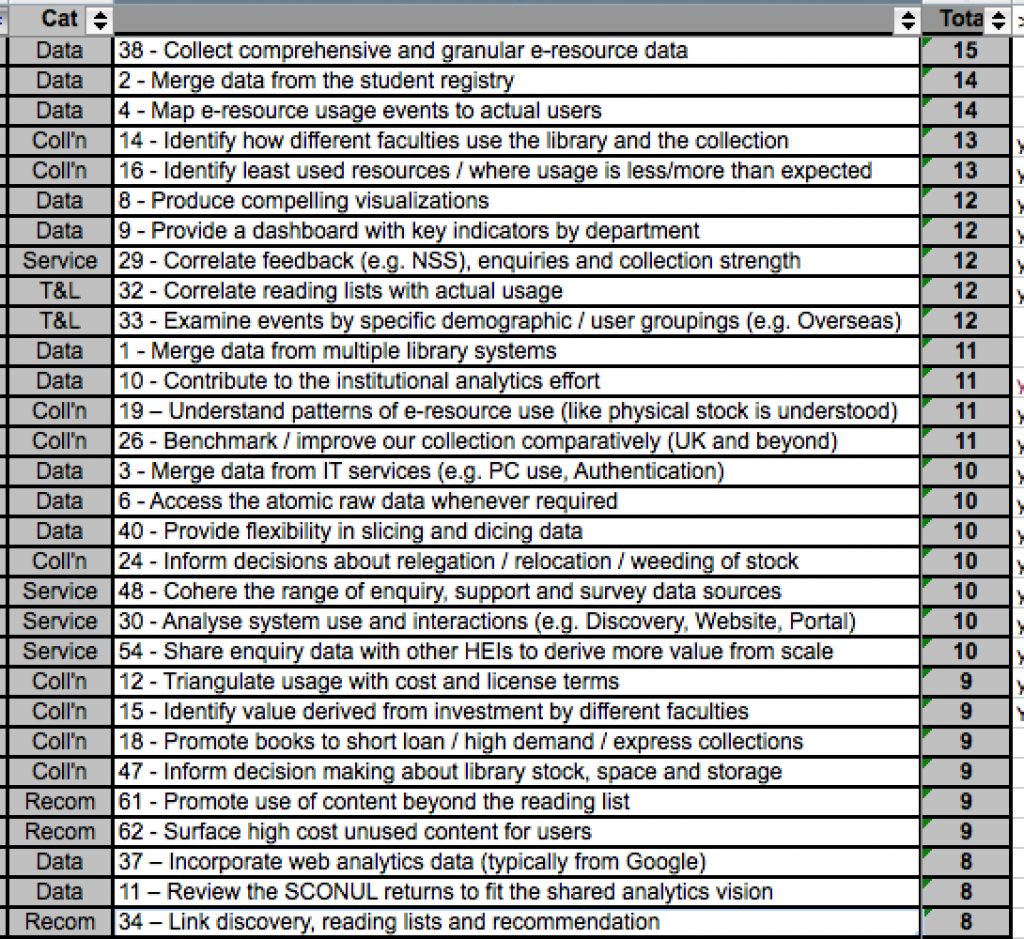 Some reflections
You'll see from the listings above that we categorised each statement in terms of its broad intent:
Mission – High level 'mission' statements that are 'epic' user stories
Data – Stories about the range of data available for analysis
Collection – Use of analytics for collection management
Service – Use of analytics for service improvement, including enquiries
Teaching & Learning – Use of analytics to enhance the learning experience and student success
Recommendation – Use of analytics to provide recommender services
It is important to observe that the principal focus of the 'mission' stories is collection management (AN) and its contribution to each of value (M), satisfaction (D) and impact (C). There is also strong recognition of analytics as a tool in:
Supporting dialogue with faculty (K)
Evidencing and positioning library business cases (A, F)
Proactively enabling support activity such as skills development to be better designed and targeted (V, AB, AS, AD)
Whilst the 'activity' stories mainly speak for themselves, the challenge for libraries and for systems providers is to identify what data is required to support these requirements and how it might feasibly be collected within and across systems.
The focus on e-resources emphasises this challenge as represented in two of the top three activity stories (38, 4, also 19) – especially linking e-resource activity to users just as we are accustomed to doing with print.
There is a persistent recognition that insightful analytics need to combine data from more than just a single vendor system (2, 29, 32, 1).
More firmly within grasp is the use of analytics to respond more effectively to differentiations in terms of faculty (14, 9) and user demographics (33).
Analytics relating to enquiry management and related service improvement is an important dimension (29, 48, 54)
Whilst clearly recognised as an opportunity (61, 62, 34), there is less emphasis on using analytics for recommendation, surfacing reading options for users as popularised by such as Amazon.
Last but not least, we shouldn't underestimate that presentation is a critical part of the challenge (8, 9)
There is much food for thought here, hopefully informing how services might be developed to exploit the data pool in which 'no system is an island'!
Whilst JUSP and LAMP are partnering with UK academic libraries to develop responses in specific areas, it is clear from our User Stories that library analytics will demand considerable thought and may reveal even greater potential as our understanding and practices mature.